Whale-watching trip 2024
Come with us! Why?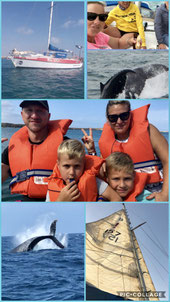 We do Whale watching in small groups up to 8 clients. 
It´s personal and we cherish our clients. We know all your names and that makes it exclusive, with us you are not just a number during our excursion, all our clients have names!
Whale - watching for us means always keeping a safe distance and to take it slow.
We won't run fast, we are sailing with time.
Sometimes we also use our motor to approach but we won't disturb our friends.
We should always remember we are guest's in their home!
Whale - watching starts at the beginning of March, 
but please be aware the sea can still be rough. You need to be healthy, therefore if you suffer from seasickness please come prepared.
How it works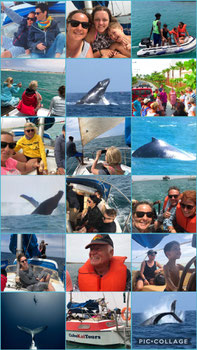 The transfer is included in the excursion and pick up time is usually around 08.00 hrs or a confirmed time.
We will meet together still on shore and make the short crossing to my boat, the crew will be waiting for us and once on the boat you will be given a briefing about our friends the humpbacks. 
Our English is clear enough to provide you with all the facts you need to know about the group of whales that come every year to Boavista.
And finally let's go!
The adventure starts and now we try to spot the whales, it may be fast or it may take time. But most importantly, relax, be patient and enjoy.
We will be around 3 hours on the water and will do everything possible to show you our humpbacks!
After 3 hours we will return to the harbour where my drivers are waiting to return you to your hotels!
Important points to note
Please be aware it's all nature and we can´t give you any guarantee that you will see whales.
It can be windy and a bit fresh, so bring an extra layer of clothing. 
Also do not forget sun protection and please cover your head!
Do not underestimate the Atlantic!
If the sea is rough we can postpone your excursion to another day of your choice.
Prices
Price per person 65 euros
Children 4 - 12 years 45 euro/kids up to 3 years are free
Pick up from RIU Touareg 10 euro extra per person
Book now!
Faster? Whatsapp 002389793090!